Intro to Gloomhaven: The Role Playing Game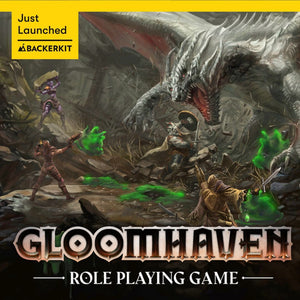 Good day! We wanted to really, truly highlight Gloomhaven: The Role Playing Game for those could use more information about it. To be part of the all the festivities of the Gloomhaven Grand Festival, be sure to check out the stream schedule and puzzles on the main page!
Gloomhaven: The Role Playing Game
is a whole new way to explore the immersive world of
Gloomhaven
. Empowering players to create their own characters, mixing and matching the Classes and Ancestries from the
Gloomhaven
and
Frosthaven
board games and bringing them to a role playing setting. 
This campaign we are bringing two new role-playing products to life, with
Gloomhaven: The Role Playing Game Core RuleBook
and
Gloomhaven: The Role Playing Game Deluxe Set
. 
The Core Rulebook is the single unified resource for both players and Gloom Master. The book includes an expansion bestiary, with narrative backgrounds, stat blocks, and combat inspiration for over 30 iconic 
Gloomhaven
 enemies. The book shares new immersive lore, which has been newly collected and written by a handful of RPG industry veterans and Cephalofair team. Featuring lore and
story with history, characters and events about the city of 
Gloomhaven
 and the surrounding regions. The book also showcases detailed cartography, with work by the renown 
Francesca Baerald
, exploring 8 regions in and surrounding 
Gloomhaven
, with highly detailed maps, setting and location entries and interactable cities, towns and geographies. Included in the core rulebook is an adventure for any new or experienced mercenaries, taking you on a 20-hour module which will take place over multiple sessions. 
While the 
Gloomhaven
 board game offers a highly tuned tactical combat experience, this new role playing game inserts that combat experience into a new RPG framework that allows for Gloom Masters to tell their own stories and build their own adventures, while allowing players to fully realize and embody their characters. The slick combat is there, but it does not have to be the focus. We are encouraging players to interact with the world of 
Gloomhaven
 however they want in all new ways. 
We have already had some exciting adventures, with both 
Penny Arcade
 and 
RealmSmithTV
, featuring players such as Jerry Holkins, Laura Stringer, Jasmine Bhullar and Luis Carazo, Deborah Ann Woll, Noura Ibrahim, and Joel Augé. Both Alexander JL Theoharis and Jason Azevedo have taken them on adventures which explore all new ways to play in the world of 
Gloomhaven
. Check out their one-shot adventures:
For more about the rules, game mechanics, character previews and more, be sure to check out the
Gloomhaven Grand Festival campaign page
as we share more previews, gameplays and more.
In the meantime, here are some helpful links from around the project.
Leave a comment
Comments will be approved before showing up.