BJ Hensley Joins Cephalofair as Director of Art & Graphic Design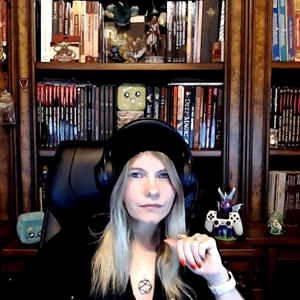 March 15, 2022, 12:00pm PST
Cephalofair is excited to announce its newest "party member" and Director of Art & Graphic Design: BJ Hensley.
BJ Hensley is an industry influencer, game designer, and published author with 15+ years experience spearheading product development and managing editing, design, marketing, and production across a variety of projects.  The founder of Playground Adventures and long-time vice president of Lone Wolf Development, her freelance projects over the years have included work for Green Ronin, Kobold Press, Paizo, Renegade Games, and Wizards of the Coast, to name a few.
In her new role BJ will be taking a direct role managing visually creative endeavors and managing art & design workflows between Cephalofair and its growing portfolio of talented creative contractors during its next phase of projects under development in the ever-growing Gloomhaven Universe.
"I'm thrilled to be working with such a fantastic team, and look forward to making fun and diverse games everyone can enjoy." - BJ Hensley, Director of Art & Graphic Design
"BJ brings a tremendous wealth of industry experience, knowledge, and creativity. I look forward to her leadership in our next phase of Gloomhaven projects and am already feeling and seeing her positive impact." - Price Johnson, COO
"I am truly excited to see the expertise and knowledge she will be bringing to the table on all our projects in development. I also look forward to getting to know her more as she becomes an integral part of the Cephalofair Games team. With her at our side, I am confident that we will be able to reach new, pivotal heights!" - Isaac Childres, CEO
About Cephalofair
Cephalofair Games, LLC was founded in 2014 by designer/CEO Isaac Childres and is since gone on to publish some of the largest and most groundbreaking board games in the industry such as Gloomhaven, Jaws of the Lion, and the highly anticipated Frosthaven delivering to crowdfunding backers later this year.
Its next phase of projects includes the recently teased Miniatures of Gloomhaven which will provide hundreds of additional highly detailed miniatures across its multiple games and expansions. 
2 Responses
Leave a comment
Comments will be approved before showing up.