Cephalofair Games Welcomes Arch Anderson!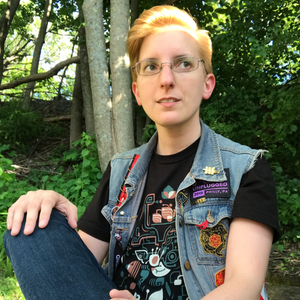 August 11th, 2023
Cephalofair Games is pleased to introduce and welcome its latest team member, Arch Anderson, as Manager of Art & Graphic Design! 
Arch picked up a crayon at some point as a child and never really put it down. He was declared a "good drawer" by many elementary school classmates and went on to pursue illustration as a beloved lifelong hobby. Young enough to not fully understand the value of a pager but old enough to remember the dawn of the internet as we know it, he picked up other skills along the way including web development, graphic design, and Furby customization.
Having spent 13 years at a small regional creative agency taking on a number of different roles as needed, Arch comes to Cephalofair as a marketing veteran. He's thrilled to now be working on experiences that bring friends together and inspire joy, and he can't wait to see everybody at the next convention.
Arch lives in Maine with husband Ian, a professional beerman at a local brewery. They have two cats, Waffles and Andre, both of whom are terrible perfect baby seniors. You can see what he's up to at archxilla.net!
"We're really fortunate to have someone with Arch's enthusiasm, organization, and creativity at the helm of so many creative efforts we have going on at Cephalofair. We can't wait to see he achieves, and what new bars we get to set together!" - Price Johnson, COO
"Arch brings a great energy to the role, and we are excited to bring his expertise onto the team to elevate the art and graphic design of our games." - Isaac Childres, CEO
Welcome to the team Arch!
---------------------------------------------------------------------------------
Are you an artist or graphic designer in the tabletop space? Cephalofair is always scouting for existing and up and coming talent! Creator portfolios and solicitations can be submitted anytime at artdrop@cephalofair.com. 
Leave a comment
Comments will be approved before showing up.