Gloomhaven: The Roleplaying Game - BackerKit Campaign Launching June 20th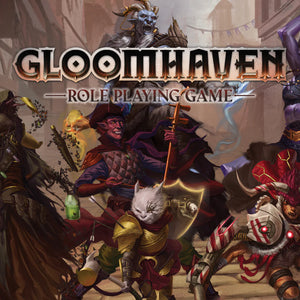 Cephalofair Games is excited to share our next crowdfunding campaign will be coming to BackerKit on JUNE 20th, 2023!
As previously announced last year, our team is busy bringing the world of Gloomhaven further to life in our biggest and most ambitious project to date, with the launch of two major new product lines set in the Gloomhaven universe: Gloomhaven: The Role Playing Game & the Miniatures of Gloomhaven line!
Gloomhaven: The Role Playing Game
If you're a fan of Gloomhaven, or just a fan of fantasy Role Playing Games with unique systems - The Gloomhaven RPG seeks to open up the world of Gloomhaven and put the creativity in YOUR hands as both Player Mercenaries and Gloom Masters.

In the Gloomhaven Role Playing Game, players are empowered to fully customize their own Characters, mixing and matching any of 8 included Ancestries with any of the 16 included Mercenary classes provided, plus backgrounds, skills, attributes, and more, providing a truly unique end result. Once created, characters will not only be able to engage in the groundbreaking strategic combat they are familiar with - but also be given the tools to interact with the world and people around them in ways they never have before. 
Gloom Masters will be given the knowledge, lore, and tools to create their own custom campaigns, combat & narrative encounters, NPCs, and more! Playable right out of the RPG book & card set - or better yet utilizing the overwhelming amount of cross-compatible components found in the original board game box to elevate and enhance their RPG immersion. 
Miniatures of Gloomhaven
The Gloomhaven community has been long asking for a line of high-quality, preassembled, miniature sets to compliment the board game series since its initial crowdfunding launch in 2015. 8 years later, we are pleased to be doing just that for all our board game titles with a new line of over 600+ miniatures.
The core Gloomhaven set will feature 250+ miniatures, and additional title/setting addon sets will offer a sweeping amount of monsters, characters, and allies that bring your Gloomhaven board games and RPG sessions to the next level. 
Our team has been hard at work for the last 2 years sculpting and lining up production partners to bring you the quality and value you expect from a Cephalofair product and are excited to share the final results in June. With thematic poses, sculpted bases, and high levels of quality control - we hope you will be pleased with the final results 
& More?
That's right. We're promising our biggest and boldest crowdfunding project to date - and we're just getting started. More announcements will be coming in the weeks ahead, and after the campaign launches on June 20th on BackerKit - so please stay tuned and brace for many, many, more exciting announcements from the Cephalofair Games Team. 

More information can be found on our Backerkit landing page.

Leave a comment
Comments will be approved before showing up.