It's Convention Week! Cephalofair Games attending Adepticon & PAX East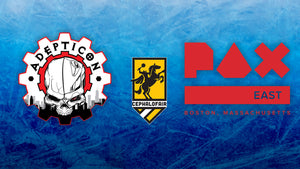 What a week for conventions! There are lots of gaming events happening this weekend and Cephalofair Games is happy to be attending a couple. Our teams will be at both Adepticon (Booth #909) and PAX East (Booth #TT42) this week!

Come check out our booth to see the latest from Cephalofair, pick up some merch & swag and games for the next game night. Rumor has it we may even have some previews for the upcoming Gloomhaven RPG & Miniatures of Gloomhaven campaign.

Looking forward to seeing you at the shows!
Leave a comment
Comments will be approved before showing up.