Let's Talk about Customer Service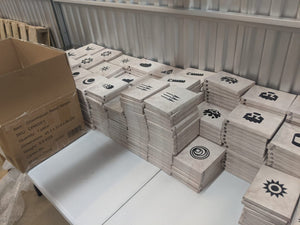 If I am being honest, customer service is the aspect of Cephalofair Games that I am least proud of. The reality is that board games are a physical product, and that type of product sometimes has things wrong with it. Missing and damaged pieces are an inevitability, and as the company who makes the games, it is Cephalofair's responsibility to make things right when they are not.
Most of the time, things go well. Someone is missing a piece, they fill out our replacement form, we take that data, send it to our fulfillment centers, and a piece gets sent out. But sometimes the wait time between when the form gets filled out and when the part arrives is unsatisfactorily long, particular for requests outside the US, and this can lead to a lot of customer frustration. If you don't have components that are necessary to play the game, you don't want to have to wait over a month to get them.
Not only that, but when customers find themselves in this situation and reach out to us, we haven't been great about communicating and reassuring them that things are in progress. All in all, the situation has not been ideal, so I want to spend some time talking about how things are changing for the better.
So first, let's get into these wait times. Back when Price was first brought on to help with customer service in 2017, when the fulfillment of the second Gloomhaven Kickstarter was still impending, he set up the replacement form and worked with our fulfillment centers to come up with a system where they would send out replacement parts for us. Up until then, I was doing all the replacement shipping, and that wasn't going super-well. This was definitely an improvement, but it also wasn't what our fulfillment centers necessarily wanted to focus their time on either. They had other orders to fulfill, and, due to the huge number of components in Gloomhaven, fulfilling these orders could be a time-consuming process.
Between our own lack of direct involvement/oversight and needing to manage five different partners, each with their own busy schedules and fulfillment projects, things became harder to stay on top of, which created a compounding effect on our support channel. We were simply asking too much. We didn't want to do it ourselves because we didn't have the time or space to keep up with it, and the fulfillment centers wanted to help us, but, because of the specialized nature of the replacement services, it wasn't the right fit for them either. And with more Cephalofair products looming on the horizon like Jaws of the Lion and Frosthaven, the situation was only going to get worse.
For this reason, we have started taking steps to bring replacements internal to Cephalofair and have already begun fulfilling these orders ourselves. Basically, we've found some storage space near Price in California as a dedicated replacement part center and someone local we are contracting to help pull orders and ship them out on a regular, more timely basis.
The most important thing here is that we now have full control over the inventory and when things go out. Whereas before we just had to send out a spreadsheet and hope for the best, now we have eyes on exactly when things are going out, and if there is a mistake somewhere along the way, we'll be able to more easily fix it.
The scale of replacement parts, both with the size of the game and the number of copies that have been sold all over the world, was just not something I was prepared for back when I created Gloomhaven. We have learned a lot since 2017, though, and I think we finally have the right solution to make sure that people get what they need to enjoy the game. And I want to apologize to anyone who has been negatively affected by all of this while we took the time to learn.
And with that said, let's now move on to general customer service. A year ago, when I announced that Price would be joining the company full-time to help run marketing and operations, I was anticipating that would also give him more time to fulfill our customer service needs. As time went on, though, it became apparent that there were a lot of holes in the business that he needed to fill, especially as we rolled out plans for the web store and the new games on the horizon.
We both ended up with less and less time to answer customer support questions, which didn't feel good at all. There was just so much stuff to do, and Cephalofair only had two people running it.
Well, not any more! I am pleased to announce that Cephalofair Games has just hired its third full-time member, Chris Kessler, who was brought on board specifically to help with sales and customer service. With extensive background in large-scale retail management and a hands-on approach to customer service, Chris will be implementing a lot of great new solutions to bring our customer support back up to speed.
Chris has been a monumental help in the last year with running conventions, and so as we expand on that front and roll out the web store, he was the natural fit. He will be taking over customer service, focusing especially on making sure that when the web store launches (which should be happening in early March), people will have confidence in our ability to help them if any problems arise. This is also obviously a focus leading into the launch of the Kickstarter for Frosthaven next month.
We don't want anyone to feel like they aren't going to be taken care of in these cases when a mistake is made, and I know we have a lot of ground to recover on that front, but Chris is here specifically to make sure that we get to where we need to be. He will be very active in the Kickstarter and, of course, the support@cephalofair.com email.
So, if you have an outstanding customer service request, we ask for your patience for just a little bit longer while we transition into this new structure. It will take some time to get all our replacement parts back to California, and for Chris to get through the backlog of email requests, but both of those things are happening. We will do everything we can to make things right and make sure that everyone has a good experience when they purchase something from Cephalofair Games.
Leave a comment
Comments will be approved before showing up.