Ross Thompson Joins Cephalofair as Marketing & Crowdfunding Manager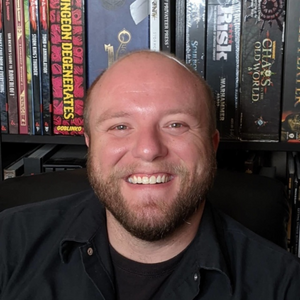 December 20, 2022, 12:45pm PST
As its rag-tag team of mercenaries march towards one of their most ambitious projects to date - Cephalofair is pleased to share that Ross Thompson will be joining the adventuring party ranks as its Marketing & Crowdfunding Manager.
Ross Thompson brings with him over 12 years of experience in crowdfunding and marketing management across the tabletop space having worked for a number of major players such as CMON, Soda Pop Miniatures, USAopoly, IDW, and most recently Steamforged Games as its Head of Trade Marketing. Across each of these roles Ross played a large part in both crowdfunding and marketing activations while also providing year-round strategic planning and management of marketing operations.
"Ross has so much experience with some of the largest crowdfunding projects in the industry, we couldn't think of anyone more qualified to head marketing efforts on our next giant campaign." - Isaac Childres, CEO
Cephalofair recently announced that their upcoming April 2023 Backerkit crowdfunding campaign would not only contain access to hundred of miniatures to compliment it's board game line, but also a brand new diceless Role Playing Game system being designed to be cross-compatible with nearly every part of the Gloomhaven universe. 
"On top of all of that - we're also very visibly helping lead the charge on a new crowdfunding platform (Backerkit) both as a launch partner and a vocal advocate for more transparency and support for creators and backers in the crowdfunding space. This is something we're excited about but also realized would come with additional work and time requirements.
During this twelve month engagement - we'll also be asking for Ross' help building out and overhauling some more permanent marketing infrastructure we are excited to be exploring further. Things like new trade shows, distribution relationships, B2B relationships, opportunities with licensing partners, and most of all supporting each of our team members and creative partners as we make some of our most innovative products yet!" - Price Johnson, COO
For marketing and press inquiries with Cephalofair Games, reach out to Ross Thompson at - marketing@cephalofair.com -
Leave a comment
Comments will be approved before showing up.