Cephalofair joins Crowdfunding by Backerkit!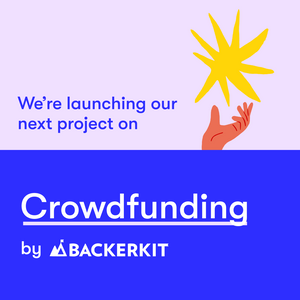 Cephalofair Games is excited to share that it will be launching its next big crowdfunding project, Miniatures of Gloomhaven, on Backerkit Q1 of 2023!

Having successfully crowdfunded 5 previous projects on Kickstarter (for a combined $17.4M+ raised) Cephalofair is excited to be joining 30 other "launch" creators, of all types and sizes, making the move to Backerkit to push much needed innovation in the space of creative crowdfunding. Cephalofair are firm believers that Backerkit is ready and able to provide an exciting new alternative that will continue raising the bar for everyone. 

Innovation that includes better moderation tools for creators, more robust options for backers and creators to communicate, collaborate, ideate, and ultimately an ecosystem shaped and able to evolve in much needed ways to continue helping Backers make projects better.

"When the time came to choose a platform for our next project - Backerkit was the immediate first thought. The ease in which we were able to leverage their platform to grow, and more importantly serve, our community was incredible - and it only made sense to ask if Crowdfunding itself was something they could incorporate into their already immense tool kit." - Price Johnson, COO, Cephalofair Games

"Using BackerKit is the easiest part of a crowdfunding experience, because any time we have a problem or needed anything, they are on it, coming up with a solution. And if they could be the entire crowdfunding experience? Well, that seemed like an easy decision to make." - Isaac Childres, CEO, Cephalofair Games

Cephalofair's next campaign touts a whopping 500+ count miniature line for our existing catalog of award winning fantasy RPG games including Gloomhaven, Forgotten Circles, Jaws of the Lion, and Frosthaven. In addition, this campaign will include access to a 2nd Printing of the highly awaited Frosthaven slated for backer fulfillment later this year.

More surprise announcements will be in-store leading up to, and throughout the Miniatures of Gloomhaven campaign - so please consider following along for the ride HERE to stay up to date!
Leave a comment
Comments will be approved before showing up.