Cephalofair & Lucky Duck Partner on Companion Apps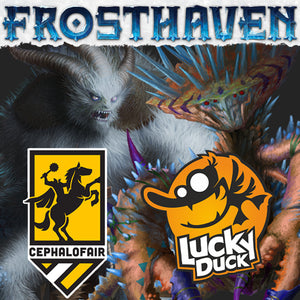 May 12th, 2022, 11:00am PST
For Immediate Release
Cephalofair Games is incredibly pleased to announce a new partnership with Lucky Duck Games to develop companion apps for our games Frosthaven and Gloomhaven.

Bringing a wealth of experience from the video game industry, the leadership team at Lucky Duck Games have spent the last five years truly innovating how apps can be integrated into and improve the board game experience and have produced a line of digital-hybrid games such as Chronicles of Crime, Destinies, and most recently their successfully funded project The Dark Quarter in collaboration with Van Ryder Games.

While companion apps are not required for the Gloomhaven & Frosthaven game systems, the goal will be to streamline the combat process as much as possible so that players can spend as little time in game upkeep and as much time as possible engaged in the world of Frosthaven. After the Frosthaven app is released, the partners will also take on the tasks of reimagining a Gloomhaven companion app, to bring everything under one roof as well as to improve the gaming experience for Gloomhaven players. 

"One of their core tenants is that app-assisted games should bring people together, not isolate them on their phones, and so we are very excited to see what innovation they will bring to the Frosthaven app in terms of UI and functionality!" - Isaac Childres, CEO, Cephalofair Games

"Lucky Duck Games has a proven track record of quality, success, and innovation in the tabletop industry and we're honored to have their assistance building tools that our ever-growing community can enjoy and rely on for years to come." - Price Johnson, COO, Cephalofair Games


About Cephalofair Games
Cephalofair Games, LLC was founded in 2014 by designer/CEO Isaac Childres and is since gone on to publish some of the largest and most groundbreaking board games in the industry such as Gloomhaven, Jaws of the Lion, and the highly anticipated Frosthaven delivering to crowdfunding backers later this year.
Its next phase of projects includes the recently teased Miniatures of Gloomhaven which will provide hundreds of additional highly detailed miniatures across its multiple games and expansions.
About Lucky Duck Games
Lucky Duck Games is an international tabletop game publisher best known for industry-leading digital hybrid board games such as Chronicles of Crime, Destinies, Kids Chronicles, and Yummy Yummy Monster Tummy. Founded in 2016, Lucky Duck Games grew quickly from a small design studio focused on making board games based on popular video game IPs to an international publisher with more than three million games sold worldwide. Their team of more than 40 employees is based primarily in Poland, with a growing presence in France, England, Italy, and the US.
Leave a comment
Comments will be approved before showing up.