"Cheers!" to Brass: Birmingham!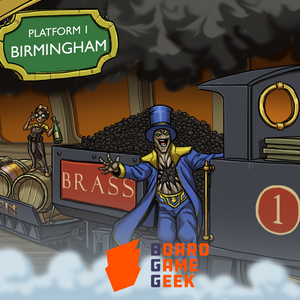 Over the weekend our team at Cephalofair Games had the pleasure, and privilege, of watching our dear friends at Roxley Games take the most recent #1 Ranking on BoardGameGeek with their phenomenal economic euro game, Brass: Birmingham!
Winner of over 7 international awards, and even more award nominations, Roxley's 2018 title Brass: Birmingham is a sequel and reimagining of acclaimed designer Martin Wallace's 2007 masterpiece Brass (Lancashire), which tells the story of competing entrepreneurs in Birmingham during the industrial revolution, between the years of 1770-1870.
As long time admirers, friends, and now peers (chronologically in that order!) - we at Cephalofair Games couldn't be happier to see a game and publisher we hold in such high regard take the #1 BGG spot ahead of Gloomhaven, the game that truly launched our company and took our team on bigger and more exciting adventures that we ever could have imagined we'd be on.
Thank you to the BoardGameGeek community for giving us such a fantastic platform on which to further build our brand and find our identity. We're truly thrilled to see Brass: Birmingham's shining success and this most recent achievement.
So to Gavan Brown, Matt Tolman, Martin Wallace, Lina Cossette, David Forest, Damien Mammoliti - and the rest of the team behind Brass Birmingham, from all of us here celebrating at Gloomhaven's Sleeping Lion Inn.... 
CHEERS AND CONGRATULATIONS ON YOUR ARRIVAL! 
Artwork by: Jacob Blackmon
Leave a comment
Comments will be approved before showing up.