Frosthaven: Companion App V1.1 Release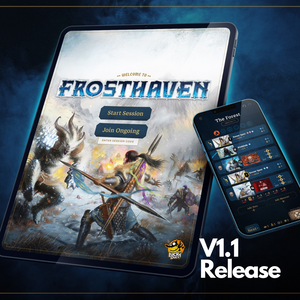 Dear Frosthaven Adventurers,
We are excited to share with you that a new update of the Frosthaven Companion app has been released today. We have heard you, tablet players, and moved the landscape mode to this release (instead of V1.2). More specifically this update contains the following features:
V1.1 - Released - January 27th 2023
- Mark each hero and monster as done.
- Automatic expiration of conditions.
- Boss special cards.
- Gloomhaven and JOTL characters.
- Patch note accessible in main menu.
As a reminder, another update was released early January containing the following features:
V1.0.2 - Released - January 2nd 2023
- History for all decks.
- Correct shuffling of Attack Modifier decks.
- Tutorial available from the main menu.
- Bug fixes, QOL improvements.
Finally, another update is scheduled for mid-February mainly focused on a new networking iteration. It will contain the following features:
V1.2 - Scheduled for Mid-February
- New networking implementation.
- Custom names for player's characters.
- Better centered images for monsters.
- Loot deck upgrades.
Slowly, but surely, and with your help in the form of feedback, we want this application to become the absolute reference for Frosthaven. So we want to hear your voice. Share with us what other features you would like to see implemented in future updates!
Thank you all for your support!
1 Response
Leave a comment
Comments will be approved before showing up.