Frosthaven is Now Available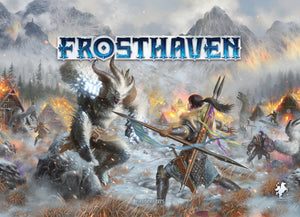 FROSTHAVEN is NOW IN STOCK at Cephalofair.com!
After a lengthy production and fulfillment schedule - overstock Frosthaven Bundles are now available through the Cephalofair.com Webstore for a limited time!
A stand-alone sequel to Gloomhaven, Frosthaven boasts a brand new campaign adventure and an impressive 30+ lbs of content including:
138 Scenarios

17 New Playable Mercenaries

18 High Quality Miniatures

2400+ Cards

Customizable City Building & Outpost Phases

Alchemy & Item Crafting

Winter & Summer Events System

Interactive Campaign Flowcharts

Enhanced Inserts & Organization Trays

Dozens of Unlockable Secrets, & MORE!
If you missed out on the record breaking 2020 Crowdfunding, this is your chance to pick up some remaining overstock on Frosthaven before it returns to crowdfunding on Backerkit in June, and before it hits full retail distribution later this year! Frosthaven can also be purchased through hundreds of Family Local Game Stores nationwide, through Cephalofair's Store Locator!
Already have Frosthaven and looking to upgrade your game? Don't forget to check out any number of the following accessories and addons to elevate your campaign experience:
Don't forget to join your fellow Mercenaries in one or all of our growing communities:
And if you'd like to demo before you buy - Frosthaven and Cephalofair Games will be attending the following conventions this summer - come find us:
Jun 2 – Jun 4 - UK Games Expo (CITY, UK) 

Jun 21 - Jun 25 - Origins Game Fair (Columbus, OH) 

Aug 3 - Aug 6 - GenCon (Indianapolist, IN) 
Leave a comment
Comments will be approved before showing up.